Topock Fire 60% Contained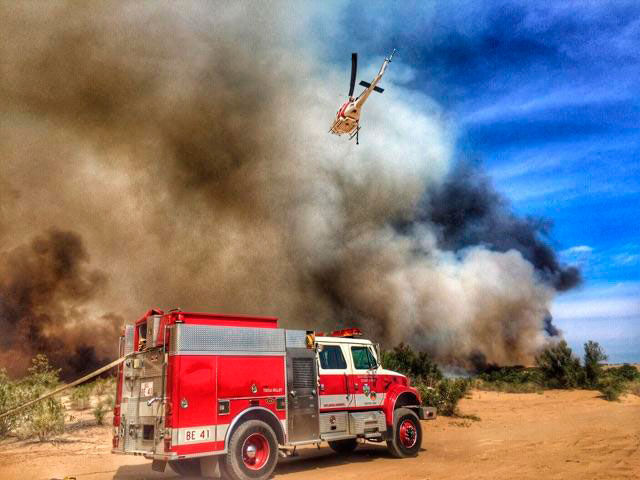 Fire on Calif.-Ariz. border now 60 percent contained
Joey Carrera and Danielle Quijada, The Republic | azcentral.com | April 7, 2016
Fire crews have been making progress in wrangling the Topock Fire on the Arizona-California border, with the blaze at 60 percent containment by Thursday evening, officials said. The wildfire, driven by gusty winds, erupted in western Arizona early Wednesday and jumped the Colorado River into California, devouring more than 2 square miles of brush and prompting the evacuation of resort and RV parks before the flames began to ease, authorities said. The fire expanded to about 2,200 acres, but by 6 p.m. Thursday night, no visible smoke could be seen and crews were able to keep the blaze from spreading any further, said Mike Reichling, spokesman for the Federal Bureau of Land Management. Reichling said the effort from overnight crews carried into the day, which ultimately allowed the daytime crews to successfully contain up to 20 percent more of the fire. He said the "reasonable weather" also enabled them to "get a handle" on the blaze. On Thursday, crews were able to get the fire to burn into itself, and Reichling said crew anticipate that the fire will be "wrapped up" in the near future. The blaze began before dawn Wednesday in the Havasu National Wildlife Refuge, which spans both states.
It threw huge waves of smoke into the air along the state line before the 15- to 20 mph winds began easing in late afternoon. Following the initial threat of the flames, the Arizona Department of Transportation cautioned drivers traveling on Interstate 40 about reduced visibility from smoke from the fire, particularly near the California state line. About 80 fire personnel were dispatched. Land crews were aided by two helicopters and two fire boats. The fire, which burned salt cedars, mesquite and river-bottom vegetation, was only 5 percent contained by nightfall, but the progress looked good, Reichling said in a Wednesday night update. "It's laying down. The temperature's dropping, humidity's coming up a bit." Firefighters set backfires overnight to hem in the blaze, which still threatened a marina on the Arizona side of the river.
No injuries have been reported. About 100 people had been evacuated from Pirate's Cove, a pirate-themed family resort, and RV parks in the Mojave Desert south of Needles, California, Reichling said. Embers slightly damaged a bar area of the Pirate's Cove restaurant before the flames were knocked down. Evacuation orders were lifted Thursday. The cause of the fire was not known, but investigators were considering it suspicious, said Fire Chief Ted Martin of the Mohave Valley Fire District in Arizona. The blaze was 12 miles south of Needles, a small desert city about halfway between Los Angeles and Flagstaff. Reichling said fire managers are confident that they will soon be turning the firefight over to the local jurisdiction, a sign that the fire's momentum is very close to being completely extinguished.
​
Includes information from Associated Press.
​
---